Start your celebration for two with Berry Amour Villas
Indulge your romantic moment with Berry Amour Romantic Villas. Set amidst beautiful and natural scenery of lush Seminyak rice field, find your privacy within serenity in the heart of Seminyak. Each thematic rooms of Berry Amour Romantic Villas' 160 sqm offer spacious 1 bedroom private villa complete with Jacuzzi, sunken dining area and en suite kitchen. Surrounded by exotic atmosphere, beautiful interior and fully facilitated private 1 bedroom villas, feel free to choose your language of love through Temptation, Mystique and Desire.
Either you are looking for a place to reawaken your love or to begin a new and epic love story, Berry Amour Villas will provide you with anything Bali has to offer. Upon your arrival, you will be indulged by friendly staffs and flower crown and relaxing foot bath ritual. Relax and rejuvenate with Berry Amour Villas' romantic spa or indulge your taste buds with daily tea and close the day with in villa dinner choices based on your mood, before going back to your thematic room. In the morning, start your day with luxurious breakfast choices before going for tour throughout Bali or relaxing in the villa with your lover. Find your own language of love and celebrate it with your lover.
Love, translated as Amour in French, is a mysterious emotion that connects us with other people and inspires us to act in kindness and compassion. Love is also the thing that inspires us in making the embodiment of love characters, special for the lovebirds who are seeking for a haven to express their love. Desire Villa offers the purest love of all, while Temptation Villa will allow you to reveal your sensuous alter ego, dominated by burning red interior. Mystique villa might help you to uncover the mysterious way of love seduction, characterized by luxurious purple interior. Berry Amour Villas surely is the perfect destination for anyone who are looking for a romantic getaway in the heart of Seminyak.
I Kade Lasiadi
General Manager
---
Berry Amour Villa's DNA is romantic. It's what always inspires and engages my mind to channel my passion and excitement in delivering unobstructed personalized service in a romantic private pool villa confinement. My past work experiences at such boutique resorts, Amankila and Kayumanis Ubud Private Villa & Spa propel me forward a lot through the present success in bringing Berry Amour Villas up to this stage. In addition, I have my own personal ambition to leave a legacy that Berry Amour Villas team will carry on.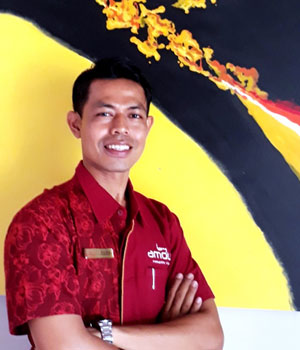 Dewa Made Wiartana
House Keeping Manager
---
My name is Dewa, born on May 31 years ago, I'm kind of perfectionist person and very concern to the appearance. Because for me, appearance is the representative of our character. I used to work in the back office but I found my passion wasn't there and I cross my experience to be a housekeeper. Being a housekeeper, I can transform my attention to detail and my creativity.
Berry Amour Romantic Villa is one of romantic villa in Bali and I feel very proud to be the one of the team. Working at Berry Amour Romantic Villas make me explore more about my romantic side. Now my attention is to keep all guests who stay with us feel the most romantic experience.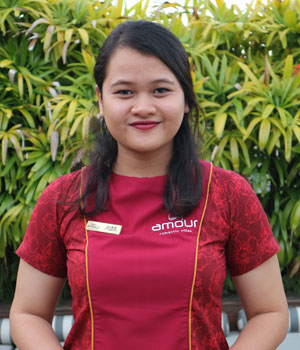 Ni Nyoman Diah Putri Jayantari
E- Commerce
---
To work in a place where imagination treated as creativity and uncovering the deepest inspiration become your main aspiration is definitely an honor. I am grateful to get opportunity to learn and be a part of the amazing team. Berry Amour's core values have given me chances to develop my passion in marketing within hospitality industry.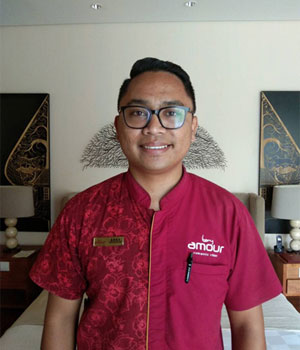 I Made Yuliarka
Butler Supervisor
---
I am a very sensitive person about personalized service. My sensitivity of personalized service explode since the beginning of my career at Berry Amour Romantic villas 3 years ago, with the different love thematic Villas, I personally very pleasure to always share the unique, happiness and memorable romantic experience. Creating a moment of truth to the client is one of my goals at Berry Amour Romantic Villas team member. The more we are grateful, the more happiness we get.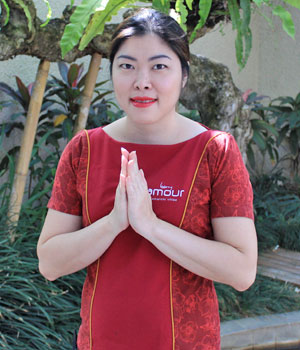 Yuliana
Mandarin Guest Relation Officer
---
It's very grateful to be a part of the Berry Amour Villa's team especially in Mandarin speaking Guest Relation Officer. To give a real service, build a great customer experience and consider every guest as a family member who deserves nothing but the best service is my pride as an Hotelier. "People will forget what you said, will forget what you did, but they will never forget how you made them feel"
Ni Made Devina Dianantha Pinpin
GSA
---
I believe that as a practitioner in hospitality industry, genuine smile and friendliness are highly required. Since the beginning of my career at Berry Amour Villas 2 years ago, I have been given many chances to build my career from Management training, to Daily worker, until I can be a permanent part of Berry Amour Villas Family as GSA and butler.
I Made Agus Widarma
Driver
---
Working at Berry Amour Romantic Villas has given back my childhood nickname, Wi. Before working here, I was working at travel agents and few hotels and villas. However, I am a loyal family member of Berry Amour Villas because I have learned a lot here, increasing my vocabulary and skill in interacting with customers. I can also contribute in introducing our culture to the guests who stay at Berry Amour Villas.