PRIVATE IN VILLA DINING
Start your day in a refreshing way. Our breakfast service will fulfill your need of good breakfast and Instagram-able pictures. While you are relaxing in your villa, make your day even sweeter with the accompaniment of our high tea service. To close your perfectly romantic day, celebrate your romantic moment with a perfect dining setup. Either you are looking for a romantic sharing dining moment with our BBQ Package, experience the feast of Balinese Royals, or even more romantic candle light dinner accompanied by the relaxing sound of rindik music and flickers of candle light, we will create you a moment and memory that will last for a lifetime.
LIVE BBQ
Price : IDR 1,550,000++ for 2 lovers
Price : IDR 2,750,000++ for 2 lovers with pool flowers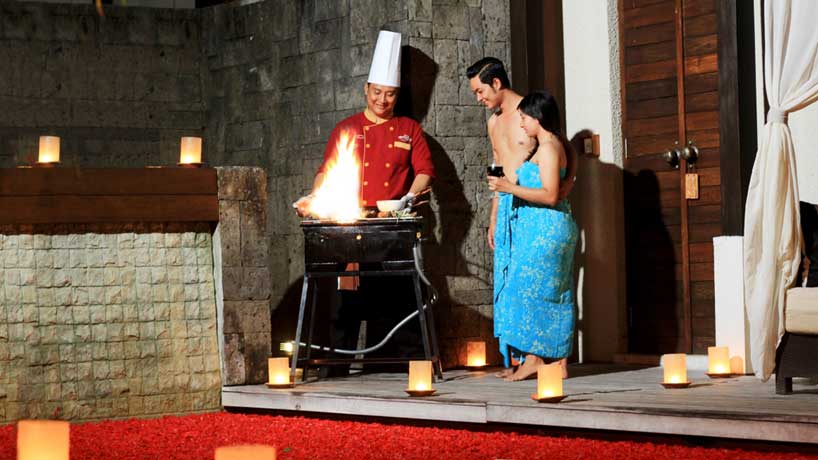 In villa dining live cooking BBQ with our dedicated chef to craft your a celebration for two ecstacy and spoil your lover with her most favorite delicacy. Live Balinese traditional music of bamboo instrument will be played by our local musician to entertain your evening.
PARADISE FEAST
Price : IDR 1,750,000++ for 2 lovers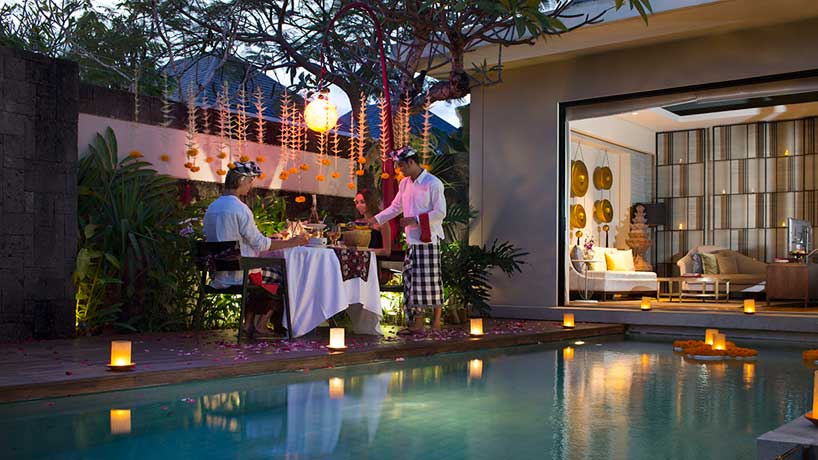 Experience in an entirely Balinese traditional setting in villa dining to inlcude food, clothings, decoration and Live bamboo music instrument. It is played by a local musician to entertain your evening. You will also be dressed up in Balinese traditional attire, man with head destar and 'saput', outer sarong while woman with sash and sarong. Frangipani flowers will rest behind the ears. Be the Bold and the Beauty in Balinese, 'Bagus' and 'Jegeg'
CANDLE LIGHT DINNER
Price : IDR 1,450,000++ for 2 lovers
Cherish her in a romantic setting with flickering candle lit scatttered around the sides of your own pool to illuminate the evening and express your feeling truly loved. Enjoy every bite of the food of her favorite. Make it the most memorable moment of a celebration for two to reminisc in a lifetime.
INDONESIAN RIJSTTAFELL
Price : IDR 450,000++ for 2 lovers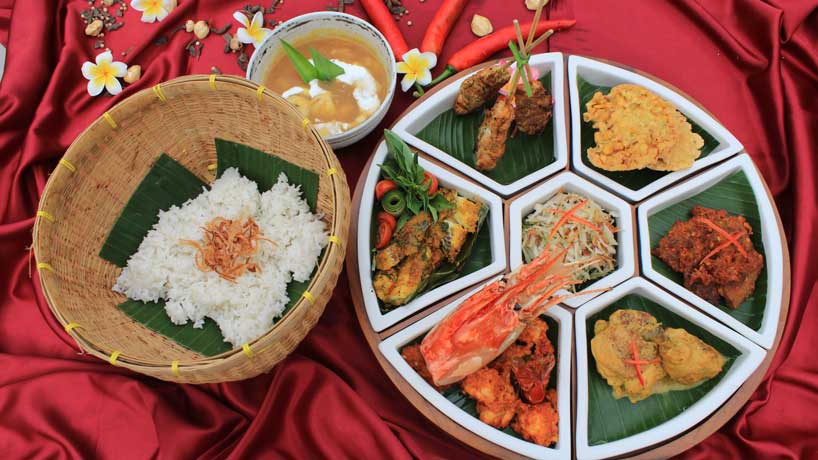 The Dutch colonial heritage dining style, "Indonesian Rijsttafel", refers to 'rice table', an elaborate Indonesian authentic meal presenting many side dishes that you can have it in a specially designed platter for 2 lovers, an intimate dining experience for two.