A celebration for two feast-royal romantic dinner readily makes your experiential stay romantically different
Zig Ziglar American Author, Salesman and Motivational Speaker
"You don't build a business – you build people – and then people build your business, Zig Ziglar. This quote should underlie any business in all scales. The key success of any business undoubtedly rests on the shoulders of their employees. The employees are the ones that drive the company business performance. For this particular reason, a company focuses on constant training and developing their employee's triangle industrial competence they have to master. It includes their job knowledge, job skills and attitudinal job performance to significantly satisfy the needs of their clients. After long learning, I found that this is the basic measurement of enabling only to fulfil the minimum requirements of a product or a service needs to be delivered in quality. It is a flat standard. Service is never flat though. We assume that those would have met the clients' needs. In the matter of facts, we need more gamification than this preliminary measurement to exceed the shifting clients' expectation in order to win their loyalty for the long run. Exceeding clients' expectation constantly is a new phenomenal in this service industry.
Employee's Talents
Talent is defined as gift or aptitude, the natural endowments of a person, the talent as a unit of value is mentioned in the New Testament in Jesus' parable of the talents (25:14-30), the skill that someone has to do something very well that people usually like. It is created, not born. Something is growing, being built. Some neurologists now consider myelin to be the holy grail of acquiring skill. Here is why every human skill, is created by chains of nerve fibres carrying a tiny electrical impulse-basically, a signal traveling through a circuit. Tennis players, football players, and dancers don't seem to have much in common but they all get better by gradually improving timing, speed and accuracy, by honing neural circuitry and by growing more myelin. Growing talent topic is further discussed in a book titled "Talent Code "by Daniel Coyle.
Employees' talent is an added value in addition to the standard service delivery. We harness employee's talent to give our clients extra miles of service elevating the quality. This is part of our amazing guest experience that possibly highlights their whole Bali getaway. This is the gamification that potentially enables us to exceed our dynamic guests' expectation. Luckily, we do have some employees with their amazing talents. I know that not many properties as lucky as us to have such employees with rare talents. They always make our clients drop their jaws when they are demonstrating their gifted talents at an informal show performance. We do organize weekly management courtesy gathering either a live cooking afternoon tea or a cocktail party alternately. At this particular moment, we invite our in house guests to join and explore our team talents that provokes their admiration. Don't miss it. Experience the local talents with us.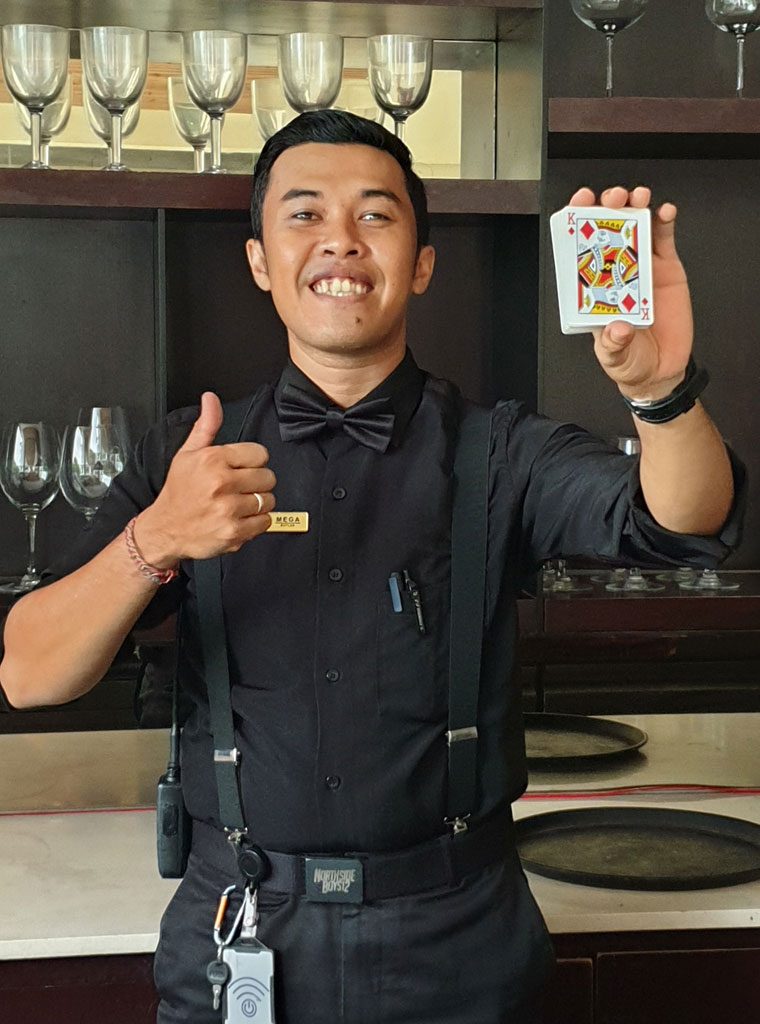 Card Trick Magician
Mega with Tintin hair style is the prehistory employee who joined us from the property was still under construction. The term of prehistory used here is to express the situation before the property got its grand opening. He is one of our dedicated Butler Squad. He is friendly, caring and an end dot executor. I see him grow so well. He is a dependable employee. He also has magnetic power (charisma) who enables to draw our clients to repeat their stay. He possesses his talent in card trick magic recently. Initially he learnt it from youtube. Later he also met some senior magicians domiciling in Bali from whom he can learn it further. You may pre-book him prior to your stay in Berry Amour Romantic Villas to get his passionate hospitality service with his card trick magic. You may drop your message to reservation@berryamourvillas.com to book him prior to your upcoming Bali getaway.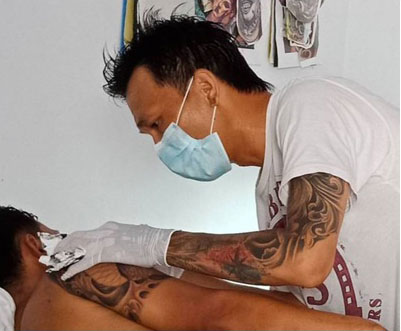 The Artist –Tattoo – Henna – Carving
De Jaroeh is our Pool Attendant. He has spiky hair style. His expertise by profession is water pool treatment. He is a tattooed team member especially in his hands, body and legs. Fortunately those are covered by his official outfits that he puts on daily to represent his professional manner. He is in disguise. His duty makes him less direct contact to the guests. He is invisible but available. He treats the pool water when our guests leave the villas. He is a real artist not only for tattoo, henna but also engraves. He helps us adorn a stage when we organise an event. He is a highly passionate team member that dedicates his expertise in making our guests totally happy with his masterpiece in body painting. Check his IG @djaroeh31. Book him in advance to set aside your time for your body painting.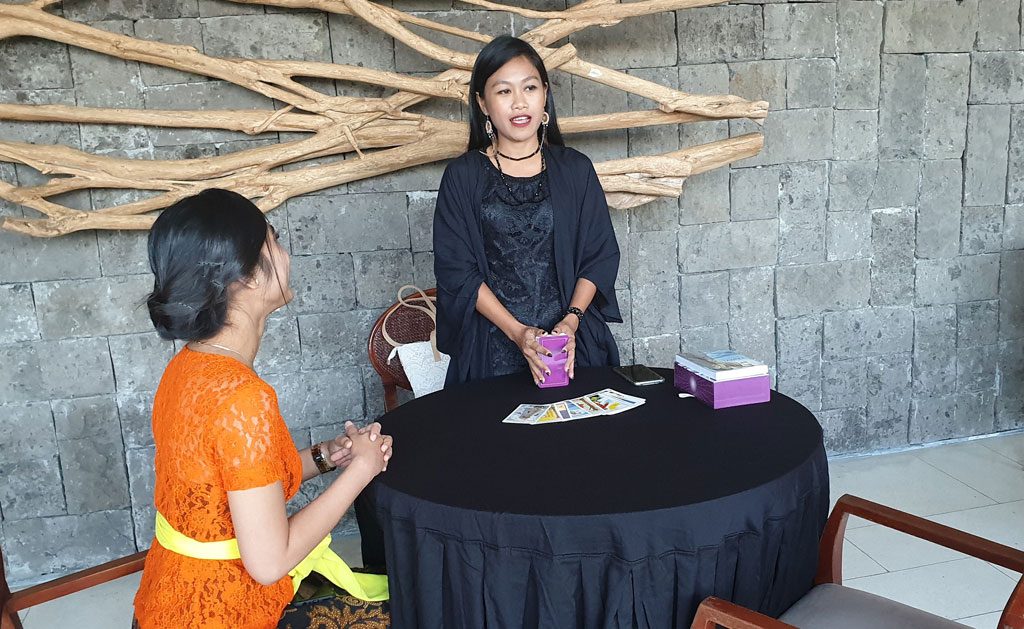 Tarot Reading
Mila Rachman is a fortune teller by default. She had no intention to predict a big plight would occur in 2020. She advised us at a gathering amidst our break at the 2020 New Year eve celebration, to spend our money a lot wiser in 2020. She did not know what would happen. But she could have felt it. Unfortunately we took it for granted. When the outbreak of the novel corona virus occurred, then we realized what she told us at that time. It strongly convenes our belief in her possessing supernatural power. Tarot Reading is her specialty. She has to fast as a requirement before she does a tarot reading for its significance. Her talent is not her profession. She is a secretary by profession. She is so friendly and sociable. Contact us at reservation@berryamourvillas.com sooner you need her assistance in revealing what in you through her tarot reading expertise.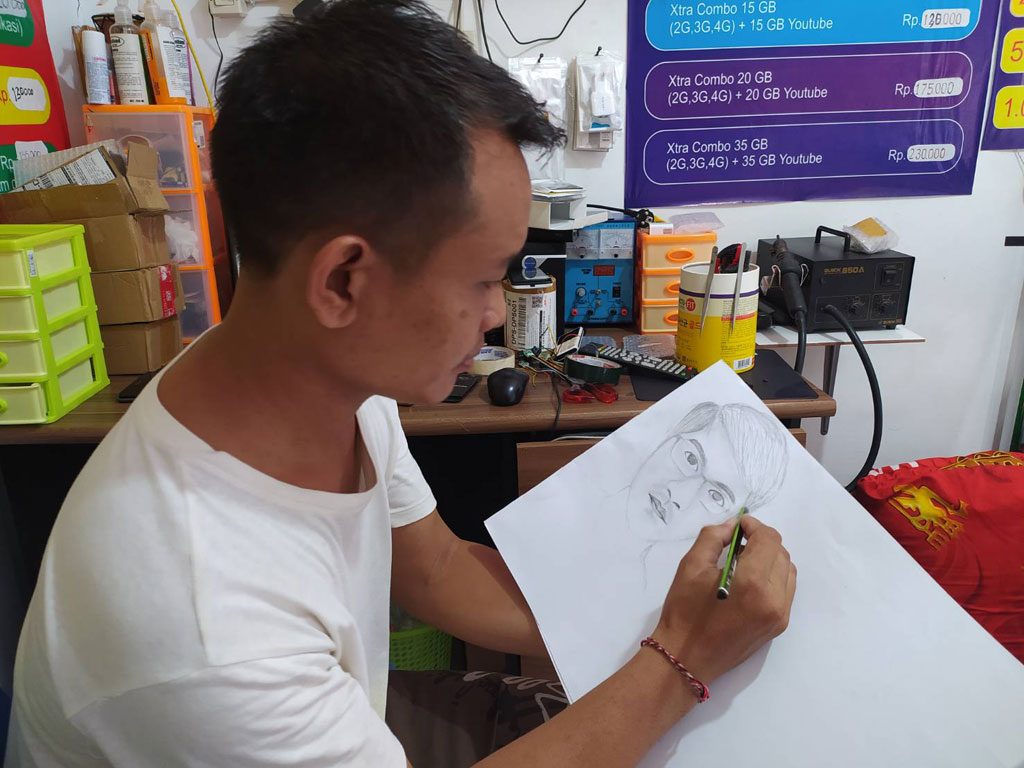 Face Photo Sketch
Ngurah Suarsila is a housekeeping team member by profession. He is also a technician by default. He is a typical Balinese characterized individual, smiley, less talk but work hard. He is able to repair any electronic devices in malfunction such mobile phones, televisions and others alike. He has his own repair shop to earn extra living from his profession as an hotelier at his off duty. The talent he has is sketching face from a photograph with a pencil. I know many people possess the same talent around the globe. Anyhow, he is one of the aboriginals living in the island of Paradise Bali. This makes him different. His masterpiece is authentic with his mind at meditation state. Meditation is also defined as focusing mind and energy on an object continuously and making his imaginary object to become an artwork. Bring something home from Bali that enlivens your Bali getaway memory. You may contact him to get his artwork during your upcoming stay with us at reservation@berryamourvillas.com. Pre order is a necessity. It takes times though to finish one.
Craft you upcoming Bali getaway in an efficient and effective package to explore what excites you due to holiday generally has a limited amount of time. Make use of it in a relaxing, unwinding and recharging manner. Any further assistance required, just drop us an email message to reservation@berryamourvillas.com or a text message to WA: +62 812 3930 0133.