The 12 most frequently asked questions to help you book a Bali romantic getaway with us at ease.
Markets' behaviors have changed so dynamically. The digitalization is the sole disruptor. It connects people more horizontally. Information spreads globally at real time. To get a comprehensive insight into a brand before purchasing its product is an essential preliminary journey. I believe that you can't fully rely on the prevailing passive digital information posted on our social media platforms, website and our earned reviews posted on tripadvisor, booking.com, agoda.com, etc from our loyal customers to get to know more Berry Amour Romantic Villas. It might take long time for you to do a research to build your trust and confidence on choosing the right one amidst the crowd to stay in.
For this particular reason, we did a survey in the last few months and learnt a lot from our clients to find out what bewildering questions they most asked us prior to book a Bali romantic getaway. We do understand the importance of sharing these common but more directive questions in a proactive and anticipative manner. It can help you book your upcoming Bali vacation at ease a lot.
From the survey, we concluded that there are 12 most asked questions that we believe those also represent yours as follows;
1). What are the differences among the 3 themes Desire, Mystique and Temptation?
Berry Amour Romantic Villas consists of 20 private pool villas all together. Each has only one bed room respectively. The 20 villas are romantically themed into Desire, Mystique and Temptation. Each theme has its own unique romantic characters that can't be compared from one to another, that can't be described in words, only through direct experience to feel the ambience.
The 3 themes of the villas
Each theme is physically differed in interior, exterior, landscapes, aroma therapy, and music. Furthermore, each bed layout setting is positioned in three different angles to maximize your love journey it offers. The romantic vibe resonates across the villa premises. Each theme brings your love fantasy to a different level of romantic experience. Either one potentially boosts your love mood.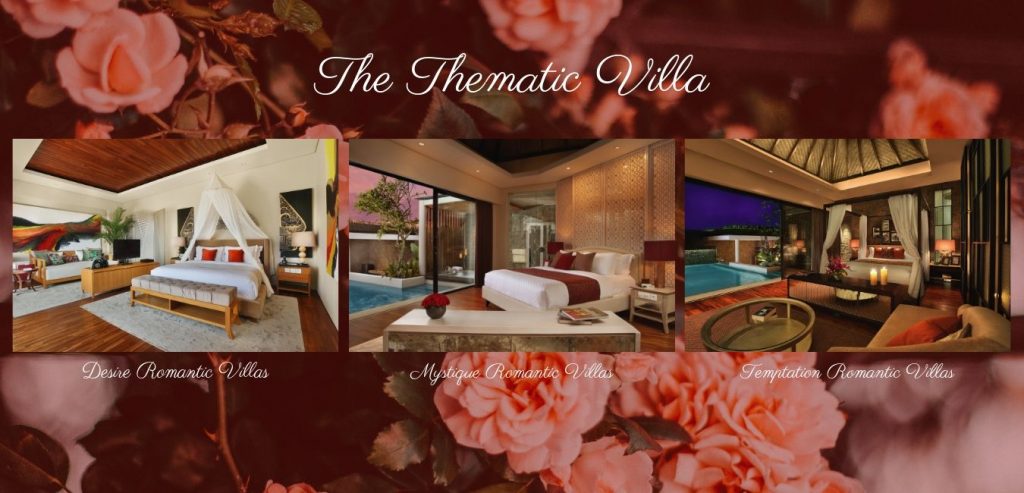 Desire offers a gentle romantic vibe with Olympic designed candle holder hanging at Jacuzzi wall to refine the purity of love.
Mystique has more Balinese rustic nuance with flickering candle lit wall standing at one side in the bed room area to reveal the mystery of your love.
Temptation is the signature theme. It is designed with transparent sexy shower, love stool and diagonal position bed layout setting to electrify your burning love.
2). Do you provide an airport pick up service.
Yes, we do. We provide you with an airport pick up service at extra charge in a private car with refreshment, soft drinks, homemade cookies, cool towels, neck pillows, WiFi and smart phone charger. The chauffeur is nicely groomed with proper pressed outfits and well trained hotelier attitude.
Apart from that, we also corporate with an agency base at the airport to get fast immigration clearance assistance with extra charge. It helps you avoid standing in queue amidst the crowd of other arriving passengers. It is a pre booked service though.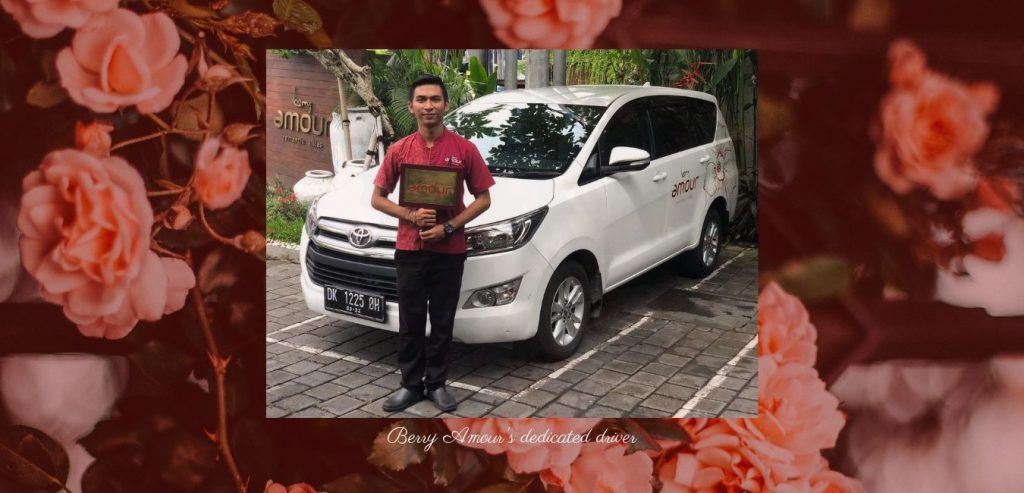 3). Do you provide a tour package?
Yes, we do. We provide you with a private car service for a touring activity to explore the beauty of Bali Island. The tour destination is subject to discussion and personally customized to meet your preference. The car is also equipped with Wi Fi, smart phone charger, neck pillows, homemade cookies, cool towels, soft drinks, and drinking water to enhance your comfort along the journey.
4). How can I pay?
We provide a few payment options to allow you to choose the one that suits your preference.
a). Bank Transfer
Bank Account: CIMB Niaga
Account Number: 8000 4518 3700
Account Name: PT SMART VILLAS
Address Code: Jalan Melati EC Denpasar Bali 80233
SWIFT Code: BNIAIDJA
b). Credit Card with an authorization form to be filled up and signed to give us approval to charge the given credit card number.
c). Payment getaway system by DOKU, you can inform our team for this and we will provide you the link in right to your email.
Please note that all transactions occurred must be settled in Indonesian Rupiah to adhere to the State Bank of Indonesia's regulations.
5). I want to surprise my partner, what can you suggest?
We do provide some romantic teasers to suit your personal occasions and exercise your romantic intelligence in expressing your love and compassion to pamper your other half.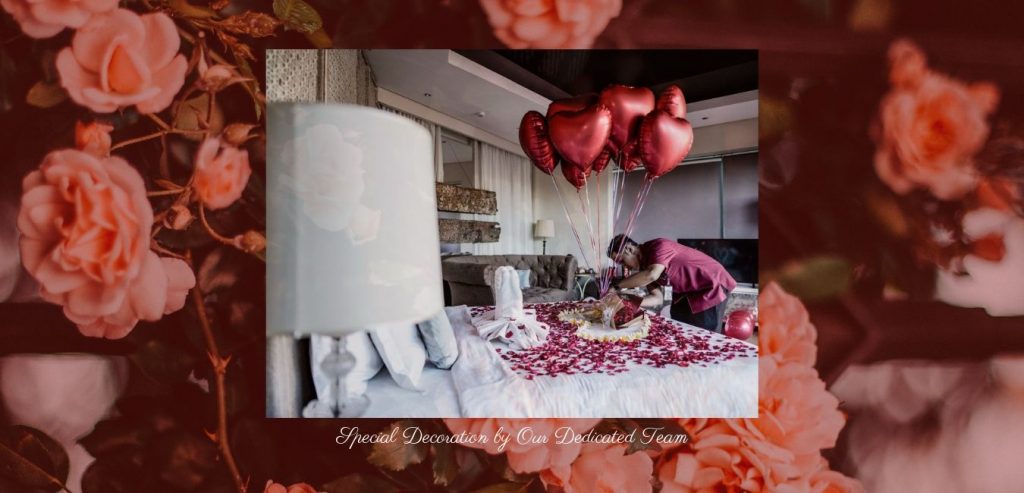 Some of the services are welcome song containing by collecting the required data from you, the best couple pose photos, favorite song, his or her nick name in romance, and romantic wording. We will turn it on the TV sooner you are entering your villa in a slide show presentation, we also have Romantic Birthday Set Up, Pool Flowers, Bridal Shower, Jacuzzi Romantic Set Up, Airport Pick Up Car, Wedding Decoration, Candle Light Dinner, Live BBQ, Paradise Feast, Royal Romantic Dinner, Cooking Class.
Click here for more information
6). I have a child, can he check in?
Unfortunately, Berry Amour Romantic Villas is exclusively designed for lovers to live their dreamiest love story in the Island of Paradise Bali. Thus, we neither accommodate children under 16 years old nor a 3rd adult sharing the same room. It is an adult villa only.

7). Can we ask for an extra bed?
Unfortunately the size of the bed room is designed only for couple, 2 adults. Thus, we cannot provide an extra bed.
8). Where can I buy local SIM Cards?
We will help you to get one during your stay. There is a smart phone outlet nearby that supplies simcard for sale.
9). Do you have regular event happening in your Villa?
Yes, we do. We arrange regular live cooking afternoon tea or cocktail party with snacks and tapas alternately held at the Bar & Lounge. We invite all the guests in house as a management courtesy to attend to it and mingle with our team members. We also present some activities alternately to mingle with, salsa dance, offering making, acoustic and Gamelan, Balinese traditional music instrument to play.
10). I want to have dinner, what can you provide?
We have a few selections of celebration for two feasts held in villa such as Candle Light Dinner, Live BBQ, Cooking Class, Paradise Feast, and Royal Romantic Dinner which is set up at Love Nest adjacent to Bar & Lounge.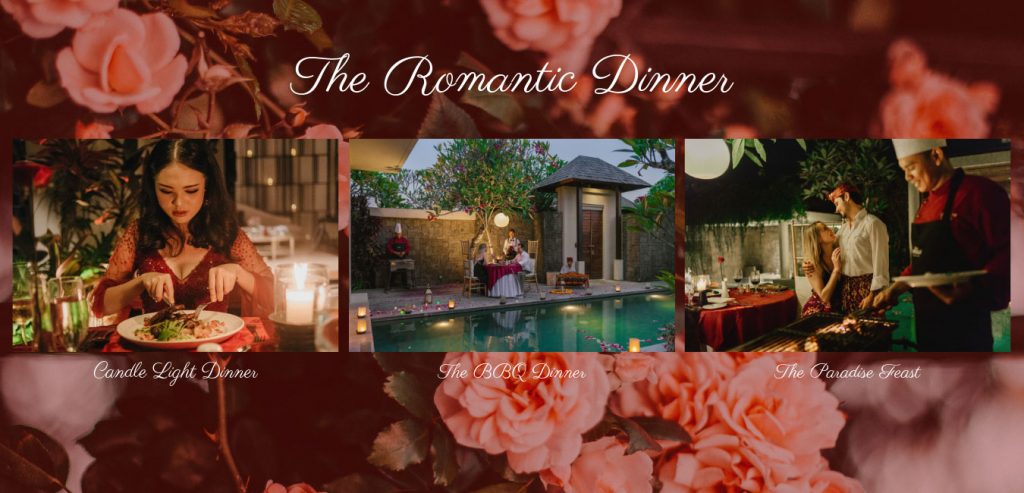 Click here for more information
11). Can we exchange foreign currency with you?
Unfortunately we don't have foreign money exchange service in house. However, we will help take you to the closest authorized money changer.
12). Can we book a package with inclusions?
Yes, you can. We themed the packages into two different themes, Ritual and Sensation that encourage lovers to celebrate every single moment that nurtures the growing seeds of your intimate relation. An inclusive package price gives you an exact figure of how much you will spend in a 2 night stay with all benefits. This helps you calculate what extra to spend, so you will be able to secure your anticipative traveling budget.
Ritual consists of a series of orderly transitions of love celebration from proposal through vow renewal that lovers have to realize the importance of celebrating them accordingly to nurture the growing seeds of their intimate relations. Some of the moments might not be repeated. Let love last.
Sensation is the selection of the inspired romantic movies that closely represent the characters of each villa theme. We create packages in relevant to each theme to bring your love fantasy to real sensation.
You also may connect to us in a live chat conversation at our website to get instant message. It is more inter personal interactive at real time. We are always at your disposal in assisting you in any ways to plan and safeguard your upcoming Bali romantic getaway thoroughly. A good holiday plan is crucial. Make one the most memorable. Aside from it, you may also customize a package you think of adding your own desired inclusions from what we can offer separately. Just drop us an email message to ecommerce@berryamourvillas.com for any further queries.